VSA Oxygen Generator
Low Pressure Compressed Air is introduced into the absorber by means of a PD Blower. Air is passed through the Zeolite absorber bed. As the air passes through the Zeolite, Nitrogen is preferably absorbed from the air leaving the Oxygen to pass through. Once the bed becomes saturated with Nitrogen the air flow must be stopped and the pressure reduced. This accomplished by stopping the blower and reversing its direction. In this way the one blower can act as a compressed air feed source and a vacuum compressor. As the air pressure is reduced in the absorber the Nitrogen that was absorbed on the Zeolite is released and exhausted from the system. This cycle is continued over and over to product the quantity of oxygen required. To balance out any supply disruptions a buffer tank is utilized.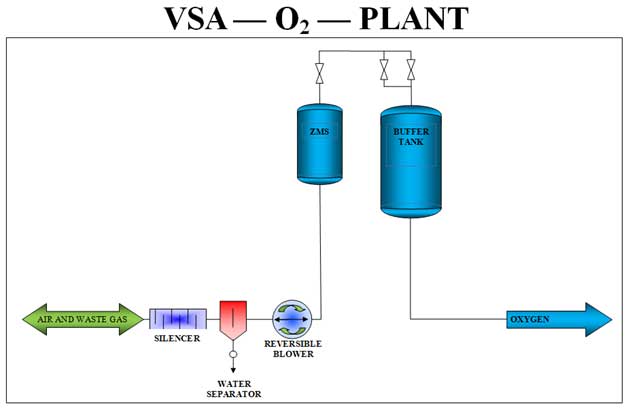 Typical Applications for VSA Technologies
Waste Water Treatment
Water Treatment
Aquaculture
VSA Flows  up to 5 tons per day (10,000 lbs per day)
OXYSWING® VSA

Product Flow
Nm3/hr / Mtpd
Feed Flow
Nm3/hr

Estimated Power in kW

kW/Nm3 O2


VSA-500

9.4 / 0.2

95

9

0.957

VSA-1000

18.9 / 0.5

185

18

0.952

VSA-2000

37.8 / 0.9

360

27

0.714

VSA-5000

94.5 / 2.3

890

39

0.413

VSA-6000

113.4 / 2.7

1130

45

0.397

VSA-10000

189 / 4.5

1850

73

0.386
NOTE: All values are + / – 4% and Purity values are 93 % (+ / – 2%), Available discharge pressure (without Booster Compressor) 1.3 bar (abs).
NOTE: Custom sizes are available.