Nitrogen Generator | Nitrogen Membrane Skids
GENERON engineers industrial membrane systems for nitrogen generation and mixed gas purification. These skid-mounted systems are commonly used in the oil and gas industry, ammonia plants, chemical manufacturing facilities, and oil refineries. We work with end users and engineering companies to provide reliable, cost effective, membrane separation solutions.
GENERON® Skid Series includes custom-designed packages to your specifications and Marine certified designs, all manufactured using the patented GENERON® Hollow Fiber Membranes. These highly engineered systems can produce higher flow rates on a standard or custom skid, with an average 30% smaller overall footprint.
A typical GENERON® membrane module contains over a million fibers. Compressed feed air is passed down the hollow bores of the fibers, at one end of the membrane module. Enriched nitrogen exits as a product gas from the opposing end of the membrane module.  Oxygen and water vapor are selectively removed and vented from the air stream as it flows to the other end of the module.
Our ISO 9000, ASME, PED, UL 508A/CSA-C22.2 and GOST certified facilities and shops in Texas and California ensure the highest-standards are met and your expectations exceeded.
Nitrogen flows from 480 scfh up to 170,000 scfh (13.6 to 4,500 Nm3/h)
Nitrogen delivery pressures from 130 to 180 psig (9.0 up to 12.4 barg)
Minimal footprint & minimal maintenance
Standard Features Include
Hollow Fiber Membrane Filters
Hydrocarbon Free
Purity Control Valve
Oxygen Analyzer
PLC
Heater
Options
Hazardous Areas – Zone II, Div II
Dual Filtration eliminating down time
High / Low Ambient Environments
Integrated Primary and Post Compression
Designed to Customer Specifications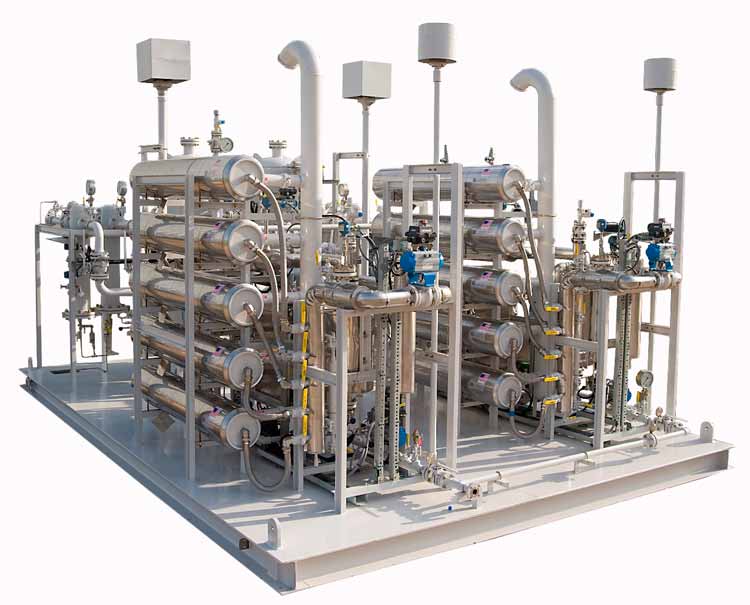 Nitrogen Package with 100% redundancy