ASME, PED, CRN, Gost pressure vessels
As a leading manufacturer of Custom Pressure Vessels, 2 Phase Separators and 3 Phase Separators, and Process Skids, GENERON delivers the highest standards and reliable products to end users, OEM's, and manufacturers.
GENERON provides a full range of Design, Engineering, Project Management, Quality Control, Manufacturing, and Fabrication services for ASME Section VIII, Division 1 and 2, National Board certified for both "U" and "R" Stamped vessels.
Pipe fabrication capabilities to all design standards
Multiple Welding technologies
Over 3,000 hp of compressed air capabilities
Certified flow test stand measures from 10 scfm (11Nm3/hr) to 3,000 scfm (4750 Nm3/hr)
Three 75-ft (23 m) by 390-ft (73 m) bridge crane with 20 ton (18,100 kg) capacity
Custom ladders, platforms, decking, structures, and skid frames to ABS and DNV certification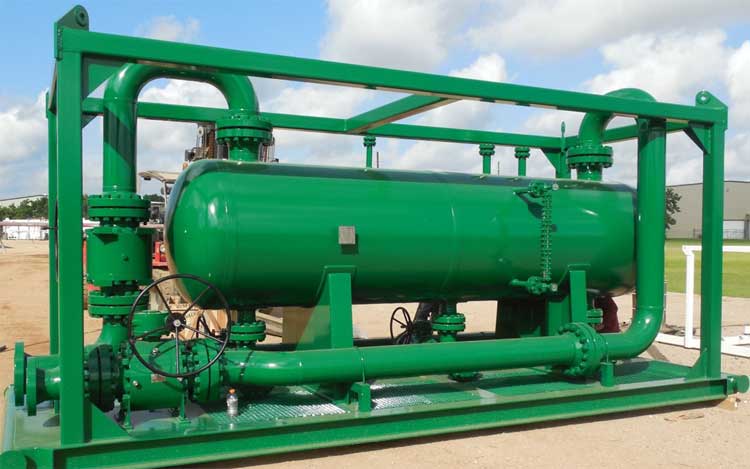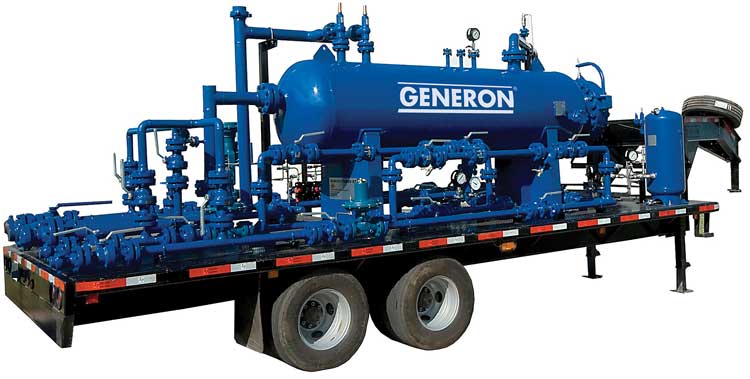 Carbon Steels & Stainless Steels
Up to 4 inches (100 mm) thick
Diameters up to 16 ft (5 m)
Lengths up to 100 ft (30 m)
Weights up to 60 ton (61,000 kg)
ASME certified Pressure Vessel Manufacturer
PED certified manufacturer for European Union
Australian Standard AS1210
Brazilian Standard NR-13
CRN—Canadian Registry Number certification available
Production Separators
GENERON's Horizontal double barrel and/or Vertical filter separators are designed to provide efficient liquid/solid removal and high gas capacities. The coalescer filter section removes bulk liquid and solid particles and also coalesces fine liquid droplets into larger ones. These larger droplets are then removed in the second [Double Pocket (DP) Vane] section. HVM utilizes high capacity DP Vanes to increase the separator's throughput and thus minimize the separator diameter.
The double barrel configuration allows you to maximize the gas flow in the upper barrel without re-entrainment while the liquid drops into the lower barrel. GENERON offers standard coalescing filters that can be replaced periodically or designs that can be cleaned and reused.
TYPICAL APPLICATIONS
Gas Plants
Transmission Stations
Gas Inlet to Chemical & Petrochemical Plants
Gas Gathering Systems
Turbine Fuel Gas
BENEFITS
High gas capacity with a compact vessel
Low maintenance
No plugging of the DP Vane
High efficiency
Liquid / Liquid Coalescers
GENERON Liquid – liquid Separation Technology can solve a wide range of separation problems involving miscible liquids. Whether it is capacity constraints, loss of valuable solvents or more stringent environmental compliance regulations, GENERON can help you meet these requirements. GENREON offers standard and custom coalesce media and solutions for the most difficult separation applications. GENERON provides cost effective solutions for your liquid – liquid separation requirements.
TYPICAL APPLICATIONS
Oil‐Water Separations
Removal of aqueous solutions from hydrocarbon streams
Removal of haze from fuels
Enhanced separation of reflux streams
Three Phase separations